Foot-Reflex massage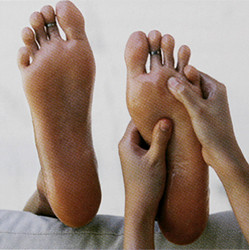 This is an ancient therapy using the feet to heal your body naturally. Specific organs and its functions are treated by massaging each pressure point of the feet. Foot reflexology improves blood circulation, reduces leg pain, and specific conditions can be targeted.
Price:
30 min = 790 CZK (35 €)
60 min = 1.090 CZK (50 €)
Order:
You can subscribe by phone or via online order form.
« Back
ROYAL SHANTI
Thajské Masáže Praha 2
Odborů 263/2 ( roh Myslíkové 22 ) 12000 Nové Město, Praha 2
Open daily 10-21
Phone:+ 420 777 323 400
Email:info@shantiroyal.cz