Mantra 4 hands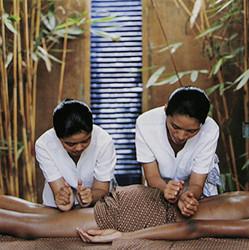 Two well-trained therapists perform this massage. This massage detoxifies your body as well as reduces the mental stress providing deep and powerful relaxation. It also increases the blood circulation and blood flow in the body which in turn promotes healthy metabolism and provides relief from body pain. This therapy also includes a scalp massage.
Price:
60 min = 2.590 CZK (115 €)
90 min = 3.190 CZK (140 €)
Order:
You can subscribe by phone or via online order form.
« Back
ROYAL SHANTI
Thajské Masáže Praha 2
Odborů 263/2 ( roh Myslíkové 22 ) 12000 Nové Město, Praha 2
Open daily 10-21
Phone:+ 420 777 323 400
Email:info@shantiroyal.cz